Back, Neck and Shoulders Massage
This treatment loosens tight knotted muscles, relaxing. Concentrating on the tension and stress in the upper body by loosening tight knotted muscles.
Full Body Massage
Relaxing, helps with elimination of toxins, helps improves circulation, relieves stress. Using aromatherapy oils blended to your individual needs for deep relaxation to ease muscle tension and to soothe aches and pains. As well as the physical effects on the body massage can also be very helpful psychologically. Overall relaxation which is very important for helping it reduce stress, tension, anxiety. It helps the mental distress that is caused by being in pain. Massage creates an overall feeling of well being. It releases endorphins, which are the body's natural feel good chemicals giving you a natural high.
Lisa: Thank you Trish for a lovely relaxing morning of pampering. Your heated massage bed adds that extra touch to the treatments.
Spring in your step foot treatment
Ideal for people whose jobs entail a lot of standing will find a leg and foot massage especially useful. Our legs and feet frequently get ignored and small twinges and discomforts often go unheeded.
High 5 restoring hand treatment
We use our arms and hands throughout the day. This gives a lot of tension and pain in the hands, wrists, and arms. The arms and hands massage is very useful to relieve pain that come with the excessive use of arms and hands.
Cleansing Back Treatment
Cleanse exfoliate steam mask and massage – an area that can easily be neglected this treatment acts like a facial for the back.
What are Lava Shells®?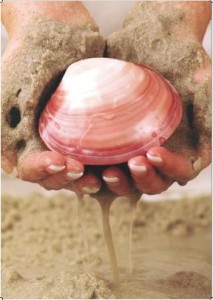 Lava Shells® are the world's first naturally self-heating massage tool, designed to allow a massage therapist, or anyone performing some type of bodywork, to add heat into their techniques.
How do Lava Shells® work?
Our Lava Shells® have heating technology combined with an all natural heat absorber called "Lava Gel". The hollow shell is filled with the Lava Gel material and then the Lava Activator saline solution is poured in, and the shell is capped so that the water can't escape. The Activator reacts with the natural minerals in the Lava Gel sachet and causes an exothermic reaction, creating a powerful heat that is absorbed into the Lava Gel after roughly 60 seconds, to provide continuous heat for up to 2 hours.
Are the Lava Gel or Lava Activators toxic?
Absolutely not. The Lava Gel is composed of food-grade minerals, and neither the gel nor the activator have any toxic substances in them, nor do they produce any harmful byproducts when they are combined.
Maxine: I had my first every shell treatment and back Massage. Felt really relaxed. Atmosphere in the room just added to the experience. Will be going back and will definitely recommend.
Lava Shells Back Massage – 30 minutes
For an intensive back, neck and shoulder treatment this deep tissue massage uses heated lava shells to achieve a firm, deep pressure and treat deep rooted muscle problems. The radiating heat from the shells releases tension and leaves you feeling instantly stress free and rejuvenated.
Lava Shells Relax Body Massage – 60 minutes
For the ultimate calming massage the Lava Shell Relax treatment is the soothing solution. As the marine polished sea shells are glided smoothly over the body, you will instantly drift into a blanket of warmth, falling into a state of utter relaxation and calm. During the massage, the shells are worked over the palms, arms, neck and shoulder area, with the focus of the massage surrounding pressure points. Deep tissue work on areas such as the feet, legs, back and shoulders, ease away all muscle tension, knots and stress points, unblocking an energy flow and releasing a sense of balance to the entire body and mind.
Here is our current price list for the services above. If you have any questions or want to make a booking, please don't hesitate to contact us!
Tel: 07961 013 415 or email: trish@scentelation.co.uk
| | | |
| --- | --- | --- |
| Treatment | Approx. duration | Price |
Massage
Back, shoulders & neck massage
30 mins
£25.00
Full body massage
1 hour
£40.00
Spring in your step foot treatment
20 mins
£15.00
High 5 restoring hand treatment
20 mins
£15.00
Cleansing back treatment
30 mins
£25.00
Lava shell back massage
approximately 30 mins
25.00
Lava shell back legs and arms
approximately 60 mins
£45.00