Full Manicure or Pedicure
Nail Shape, treatment of cuticles massage, polish of your choice (hard skin removed from feet)
File and polish fingers or toes
Nail shape, and a polish of your choice
Luxury Spa Manicure or Pedicure
Hands or feet are soaked in a relaxing spa, nail shape, treatment of cuticles, exfoliated, mask, massage, base coat , enamel, top coat
Paraffin Wax Treatment
Hands or feet are enveloped in warm wax, covered with plastic and wrapped in towelling mitts for 15/20 mins. Allowing benefits of treatment to work, followed by a soothing arm and hand massage (very good for dry skin conditions and aching joints)
Gelish Nails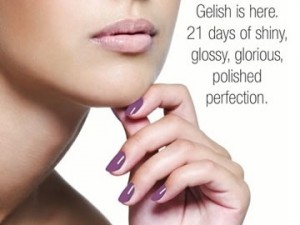 If you are fed up with your nail polish peeling then read on:
The miracle nail colour that is GELISH will help your nails:
Will not split, chip or tear
Soaks off in 10 minutes leaving a heathly nail
And best of all…Will look perfect for an amazing 21 days
Met the LOVE OF YOUR LIFE that won't let you down
Helen: Thank you again Trish for the fantastic Gel nails I had done last week. I regularly have them done with Trish she has such a great variety of colours and designs and they always look fantastic! Had a fabulous steam facial this week. Very relaxing and thoroughly enjoyable. I am planning to have one every month!
Here is our current price list for the services above. If you have any questions or want to make a booking, please don't hesitate to contact us!
Tel: 07961 013 415 or email: trish@scentelation.co.uk
| | | |
| --- | --- | --- |
| Treatment | Approx. duration | Price |
Beauty treatments
Full manicure or pedicure
45 mins
£18.00 / £20.00
File and Polish fingers / toes
20 mins
£10.00 / £12.00
Luxury spa manicure or pedicure
1 hour
£28.00
Paraffin wax treatment
30 mins
£16.00
Gelish nails fingers and toes
£20.00 / £22.00
Gelish removal
£5.00